The banks of the rivers Seine and Eure at Pont-de-l'Arche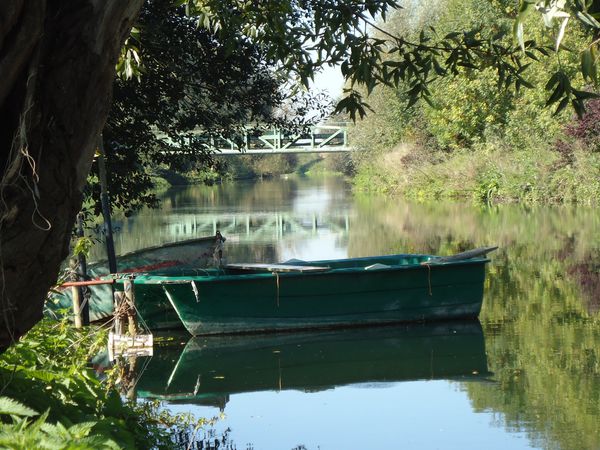 The community Pont-de-l'Arche is part of indeed deserves its name Seine-Eure. Apart from the "green way" which joins Léry and Louviers, the banks of the Eure in Pont-de-l'Arche and Les Damps are worth seeing. The riverside offers magnificent views on the charming houses at the foot of the hillside, as well as on the islands between the Eure and the Seine.
It's an easy stroll for the tourist who walks along the old towing-path where our ancestors used to tow the boats going up the river. Today, the swans, the moorhens and the ducks live here. It's also one of the favourite place for families to have picnics and lie on the grass, or for lovers to stroll, or for people to go fishing or canoeing.
In the past, the Eure flowed into the Seine right opposite Les Damps, but nowadays, thanks to a spillway, for the first time, the Eure unites with the Seine in Pont-de-l'Arche, partly though. In 1930, there were major works which made the Seine a canal linking the Channel to Paris, and they transferred the confluence to Martot, ten kilometres down-stream. On the way down the river, the tourist will see:
- the historic heart of Les Damps;
- the islands;
- the access of Île Saint-Pierre is down a spiral staircase in the middle of the bridge;
- Arromanches Bridge. Pont Bailey which goes across the Eure onto Harcourt Island. It's the remaining part of a bridge which was built by the allied forces at the Liberation in order to go across the Eure and also the Seine (that part of it is gone).
The people who are fond of sport can walk on towards the old abbey (Bonport). They are a few fences on the way to stop the sheep browsing there from going astray. After walking underneath the wall surrounding Bonport, the stroller will reach the green banks in Criquebeuf and Martot. Don't forget to take a stick (for the nettles in summer) and Wellingtons in autumn!