Notre-Dame de Bonport abbey (Pont-de-l'Arche - Normandy)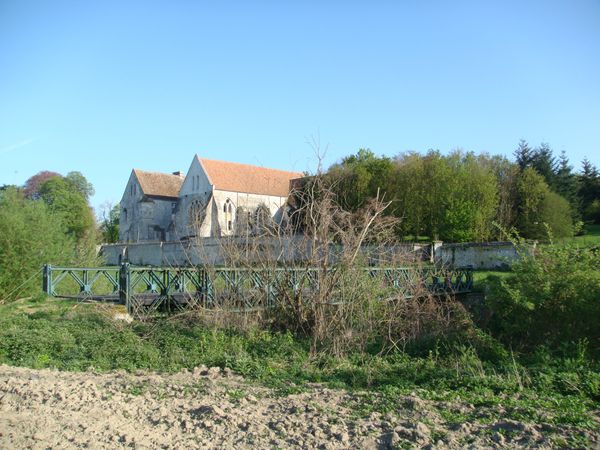 Cistercian order.
The Abbey Notre-Dame de Bonport was founded in 1190 by Richard the Lion Heart, King of England, Duke of Normandy. According to legend, the King was in peril on the river Seine and made a vow that if he arrived safely (in French " Bon port ") on the bank of the river, he would found a monastery on that side.
This royal foundation took place before Richard the Lion Heart and Philip Augustus, King of France, who were friends at the time, left for their crusade. Its strategic position on the Seine fulfils Richard's wish of a political and economic opening of Normandy towards France.
The Abbey was built shortly afterwards and quickly with the help of local lords and was completed and in full use by the first half of the 13th Century.
From Philip Augustus (1204) to Henry IV (1608), the kings confirmed the possessions of the Abbey and gave the monks many privileges. One of the famous archbishops of Rouen, Eudes Rigaut, went to stay there about twenty times between 1260 and 1267.
The Abbey suffered during the Hundred Years War and the League (" du bien public ", i.e. a revolt of the landlords against Louis XI). It was restored thanks to royal donations of Charles VI and Louis XI during the 15th Century.
From 1536 onwards the Abbey was held in commendams, which meant that the abbots were no longer chosen by the monks but named through royal favours and were often unconcerned by monastic life.
The best-known commendatory abbots were the poet Philippe Desportes, the Cardinal of Polignac and King Casimir of Poland.
François 1st called upon Rouen Parlement from Bonport to register the order of Villers-Cotterêts (1539) according to which he substituted Latin by French in judgements, notary deeds and register of births, marriages and death. In 1540, on the territory of Abbey, he tested his culverins (type of cannon) which he had just made.
During the 12th and 13th Centuries, the Abbey was repaired and improved, the dormitory and the library were improved and a big staircase was built.
It was sold by a public possession during the Revolution and the Cloister and Church were destroyed.
Notre-Dame de Bonport Abbey is one of the few remaining Cistercian Abbeys in Normandy with cloistral buildings of the Middle Ages including a chapter-house, a monk's room, the former library, a dormitory, kitchens and above all a magnificent 13th Century vaulted refectory.
(extract from a document given in this Abbey.